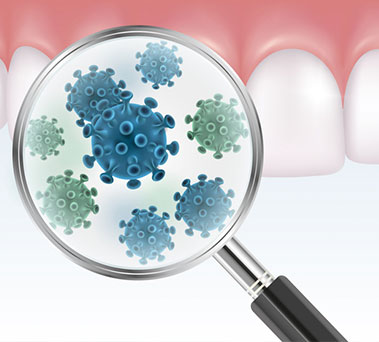 Say "bacteria," especially in the same sentence with "disease" or "infection," and you may trigger an immediate stampede for the hand sanitizer. The last thing most people want is to come in contact with these "menacing" microorganisms.
If that describes you, however, you're too late. If you're of adult age, there are already 100 trillion of these single-celled organisms in and on your body, outnumbering your own cells 10 to 1. But don't panic: Of these 10,000-plus species only a handful can cause you harm—most are either harmless or beneficial, including in your mouth.
Thanks to recent research, we know quite a bit about the different kinds of bacteria in the mouth and what they're doing. We've also learned that the mouth's microbiome (the interactive environment of microscopic organisms in a particular location) develops over time, especially during our formative years. New mothers, for example, pass on hundreds of beneficial species of bacteria to their babies via their breast milk.
As our exposure to different bacteria grows, our immune system is also developing—not only fighting bacteria that pose a threat, but also learning to recognize benevolent species. All these factors over time result in a sophisticated, interrelated bacterial environment unique to every individual.
Of course, it isn't all sweetness and light in this microscopic world. The few harmful oral bacteria, especially those that trigger tooth decay or periodontal (gum) disease, can cause enormous, irreparable damage to the teeth and gums. It's our goal as dentists to treat these diseases and, when necessary, fight against harmful microorganisms with antibacterial agents and antibiotics.
But our growing knowledge of this "secret world" of bacteria is now influencing how we approach dental treatment. A generalized application of antibiotics, for example, could harm beneficial bacteria as well as harmful ones. In trying to do good we may run the risk of disrupting the mouth's microbiome balance—with adverse results on a patient's long-term oral health.
The treatment strategies of the future will take this into account. While stopping dental disease will remain the top priority, the treatments of the future will seek to do it without harming the delicate balance of the mouth's microbiome.
If you would like more information on the role of bacteria in oral health, please contact us or schedule an appointment for a consultation. You can also learn more about this topic by reading the Dear Doctor magazine article "New Research Show Bacteria Essential to Health."